Nylatron Thermal Breaks
Thermal Breaks are used throughout the building trade to provide cold bridging prevention between internal and external horizontal and vertical metal connections. The Nylatron Thermal Break is designed with low thermal conductivity in mind, thus reducing/preventing the flow of thermal energy between the two conductive materials, minimising the risk of internal heat loss and condensation.
Low coefficient of friction – Nylatron is suitable for most moving parts allowing them to glide over surfaces smoothly and with less effort. Suitable for bearings, gears and most sliding parts.

Excellent dielectric properties – Nylatron is suitable for electrical insulators.

Good abrasion resistance – Nylatron lends itself to low to medium stress applications possessing a high mechanical strength.

Reduces lubrication – Filled with molybdenum disulfide at source it enables components within applications to keep free moving without the need for constant additional lubrication.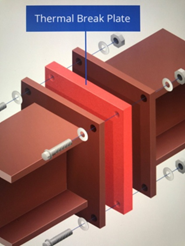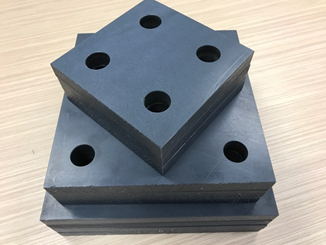 Design requirements of Nylatron Thermal Breaks
As every building envelope is designed differently it is impractical for PMA TRADING to determine and calculate its thermal performance, we therefore request a full dimensional drawing from which to produce our Nylatron GSM thermal breaks. To ensure we meet the requirements fully, the requisitioner should ensure all aspects of B25250:2011 are met. Guidance on avoiding problems with high moisture levels, excessive humidity and condensation in the building are all covered in this directive. From here all U value calculations can be done on the local steel structures that are to penetrate the building envelope, and Nylatron Thermal Breaks can be manufactured to suit.
**Please note that items such as beam end plates, thermal breaks and bridge breakers manufactured from Nylatron GSM are inherently more compressible than steel in nature, and therefore deflections, wear, mechanical properties and strength should be calculated at the design stage before a part is stipulated.
High level ISO compliance, Thermal conductivity and load bearing data of our high specification Nylatron Thermal Breaks are contained in the attachment and further details can be provided on request.**
**Please note that it is the project designer/architect's responsibility to calculate the requirements regarding heat loss and condensation levels in accordance with building regulations.**
Thicknesses of Nylatron Thermal Breaks
At PMA TRADING we manufacture the thermal break component exactly to your requirement. Bespoke sizes are all catered for including any shape and thickness. High precision Water Jet machining is undertaken to provide a perfect quality product.
Most of our Nylatron thermal breaks are manufactured from the following thicknesses:
Applications of Nylatron GSM Thermal Breaks
Our Nylatron thermal breaks are produced in both small and large volume to suit any design of construction.
Nylatron components can be supplied in a dark grey / black colour. Ask a member of our sales team for more information. Data sheets can be supplied free of charge upon request.
Bespoke cutting solutions
P.M.A Trading offers professional and quality water jet cutting services to customers across County Tyrone, Northern Ireland. We use cost-effective methods and cutting-edge technology to produce high-quality products, saving our customers both time and money. With many years of experience in the business, we have the ability to cut almost any material. If you have any questions about a material you are trying to cut, please get in touch with our friendly staff today.
The latest equipment to meet your cutting needs
Water jet cutting is the most effective way of cutting complex shapes. Using this technology, we are able to cut a large array of materials, including heat-sensitive, delicate and hard materials. With specialised software and 3-D machining heads, we can produce even complex shapes, reducing the amount of scrap material produced.
Delivering quality and affordable services
At P.M.A Trading, we are committed to catering to our customers' specific needs and work with them to ensure they get what they ask for. We pride ourselves on the quality of service we provide and our outstanding customer service. For a free estimate or to discuss your needs, contact us today.
We work in a range of sectors:
Construction and Hardscaping
For More information about our products and services. Give me us a call or visit our contact us page.
02887747730